Maryland Gutter Contractor
Protect the foundation of your home, and prevent your basement from being flooded with gutters and guards.
Foundation repairs can be costly, and prevention is the best way to minimize damage or flooding to your basement or around your home. We specialize in exterior home renovations by safeguarding your home from potential water damage and give you peace of mind every time it rains. We only use the best products on the market and hire only the best installers for an unbeatable look and dependable protection. 
Exterior Renovations proudly offers a range of services from seamless aluminum gutter installation to gutter guards to protect your home. There's no reason why you wouldn't be able to find the perfect system to fit your needs and budget. We'll help you choose the right gutter system for your home that offers decades of protection and beauty to your home.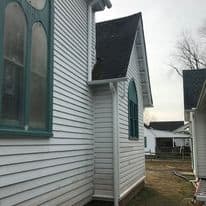 Basic Types of Gutters
There are two basic types of gutters, and both come in 5- and 6-inch widths. Here are the two different types to choose from:
K-style gutters - These are decorative-shaped gutters with flat bottoms and backs, and the front side is usually shaped similar to crown molding with a curve or ogee. 
Half-round gutters – This type is often found in older and historic homes and comes in many styles.  
Both types of gutters come in various metals, including:
Seamless Aluminum
Most popular choice of metal for gutters 

It's lightweight and easier to install

Rust resistant

.032- or .027-gauge thickness recommended for long-lasting duty in regions with snow

Comes in a variety of colors to match any home

Cost of pro install (materials and labor): $7 to $12 per linear foot
Copper
Offers a beautiful look to any home

Rust resistant

No need to paint; will develop a patina over time

Must be installed by an experienced professional installer 

Seams and joints must be welded

Used primarily on high-end residences and historic restorations

Expensive to install
Cost of pro install (materials and labor): $13 to $26 per linear foot (6-inch K-style or half-round)
Located in Annapolis and Gaithersburg MD, Exterior Renovations has been offering residential gutter installations and repair services in Annapolis, Edgewater, Arnold, Gaithersburg and Germantown . We're a dependable contracting company that is both licensed and insured with extensive experience installing all types of gutters. Give us a call, and we'll guide you through the process of protecting your home.